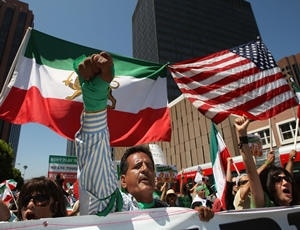 Iranian-Americans and supporters march in Los Angeles
Sunday to protest what they say are crimes against
humanity and democracy committed by the government
of Iran after the disputed June 12 Iranian presidential
election results in Los Angeles, California.
By Jim Meyers
Foreign policy expert and author Michael Ledeen tells Newsmax that President Barack Obama "hasn't done anything" to help the Iranian people as resistance to the country's repressive regime continues.
Ledeen also says that the talks Obama seeks with the current regime will go nowhere, charges that Iranians "have been killing Americans all over the world," and warns that as soon as the Islamic Republic acquires a nuclear weapon, it will "test" it on Israel.
But he also believes the current regime is unlikely to survive. Israel will certainly attack Iran if the West fails to stop the ayatollahs from completing a nuclear weapon, Ledeen said.
"They've said as soon as they get a nuclear weapon they're going to test it on Israel, so that's a pretty big threat," Ledeen said, adding, "I expect the Israelis to eventually attack the Iranian nuclear facilities if the rest of the world doesn't find some other way to do it. Whether they will bomb it or not, I can't tell. There are a lot of ways to do it."
More ...
Source:
NewsMax