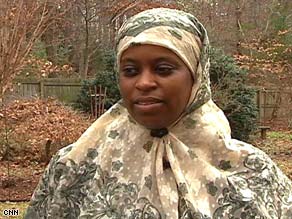 The Douglasville Police Department said Monday its officers will undergo "sensitivity and cultural diversity training" after a Muslim woman who refused to remove her head scarf at a courthouse was jailed. Lisa Valentine has been shaken "to her core" by her arrest last week, her lawyer says.
"We never want this to happen again. It's not our intent to embarrass anybody," Police Chief Joe Whisenant said at a news conference.
The judge who had the woman jailed briefly for contempt of court will also take part in the training, Whisenant said.
The incident took place December 16 when Lisa Valentine, who also goes by her Muslim name, Miedah, accompanied her nephew to a hearing at Douglasville's municipal courthouse. The scarf, called a hijab, covered her hair but not her face. It is part of her religious belief that her hair should be covered in public, as a form of modesty.
Read more ...
Source:
CNN
H/T:
Dhimmi Watch
Lisa Valentine
CAIR
Latest recipients of the Distinguished Islamofascist Award