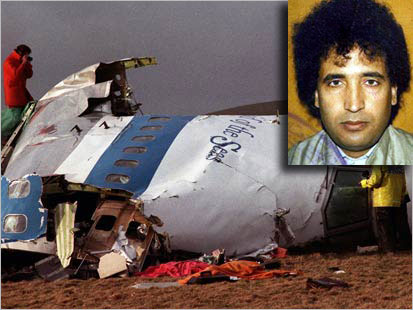 Matthew Campbell |
August 24
THEY are expecting a magnificent party in Tripoli tomorrow when Libya marks Muammar Gaddafi's 40th year in power and pays tribute to the deft diplomatic footwork of Saif al-Islam, his son.
The only man convicted for the bombing of Pan Am Flight 103 over Lockerbie, southern Scotland, in 1988 is finally home; and the suave Saif, whose name means sword of Islam, is credited with a key role in making it happen.

An agreement struck long ago between former British prime minister Tony Blair and Gaddafi had threatened to fall apart with potentially catastrophic consequences. It has emerged that Libya threatened to freeze diplomatic relations with Britain if Abdelbaset Ali Mohmed al-Megrahi, who is suffering from prostate cancer, was not released under a prisoner transfer agreement with Libya.
In the end, he was freed by Scotland on "compassionate" grounds and escorted home to Tripoli by Saif, who thrust Megrahi's hand into the air as they came down the steps of Gaddafi's airliner to a hero's welcome that has outraged the families of Lockerbie's 270 victims.
Protests are undimmed, but official responses are evasive, unsurprisingly, because behind Megrahi's release lie weeks of intrigue between Westminster, Tripoli, Edinburgh and Washington.

Apart from the unfortunate Lockerbie families, everyone seems to have got what they wanted. Gaddafi and his son have their man. Kenny MacAskill, the Scottish justice secretary, who signed the release order, has burnished his humanitarian credentials.

British Prime Minister Gordon Brown has preserved Britain's politically and economically valuable new relationship with Libya while avoiding any blame for the release and US politicians have been able to bluster in protest while exercising none of their considerable clout to stop ithappening.
The reality is that Megrahi's freedom is a product of the effort to bring Libya out of isolation.

This is as much to the US's advantage as Britain's, but Washington has too much baggage to be openly involved. It bombed Libya in 1986 in punishment for supporting terrorism, and Gaddafi remains a bogeyman to many Americans. So Britain takes the lead, except when it can devolve the dirty work on to a Scottish politician.
A so-called "deal in the desert" reached between Gaddafi and Blair in a tent outside Tripoli in 2004 led to a broad rapprochement with Libya and a prisoner transfer agreement that Gaddafi saw, from the outset, as a means of bringing home Megrahi. The Libyans became increasingly angry, however, at what they regarded as British foot-dragging over the transfer. "They were furious with the Foreign Office because things were not panning out as they were told they would," says a source close to the Scottish administration. "The Foreign Office had been telling the Libyans that they were confident the Scottish government would agree to their prisoner transfer request." Read more here ...

Source: The Australian