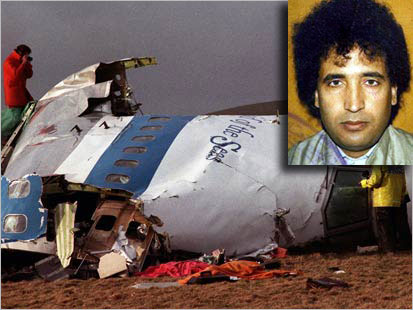 By John Bolton
Outrage was the uniform American response to Scotland's release last week of Abdel Baset Ali al-Megrahi, the man convicted of blowing Pan Am 103 out of the sky over Lockerbie in December, 1988. Two hundred and seventy innocent people died in that act of terrorism, of whom 189 were Americans, many of them students on their way home to celebrate Christmas with their families.
Outrage also greeted the public celebration of Megrahi's arrival in Libya and his warm reception from Muammar Gaddafi. These manifestations of insensitivity only highlight the shamefulness of Britain's fundamental mistake in letting Megrahi go free, regardless of his condition. "Compassion" has no place here. Releasing him to die at home means that he has spent less than two weeks in jail for each of his 270 victims. They never made it home.
The justifiable disgust over Megrahi's release sadly underlines what amounts to a spectacular failure of American diplomacy. "Obamamania" overseas is a dominant theme of the media, endlessly recounting how the US position in the world has
improved since President Bush's departure. "Engagement" with friend and adversary alike is the Obama administration's hallmark, with diplomatic advances expected to flow like wine.
Read more ...
Source:
Telegraph