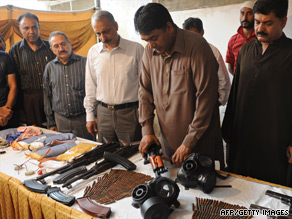 Pakistan security officials show seized weapons
and ammunition in Karachi on Sunday after
the arrest of seven alleged militants
Pakistani authorities have launched a massive crackdown on terror groups that they say were planning numerous suicide attacks, including in the country's largest city of Karachi.
At least 24 suspects were arrested Sunday and Monday, including three people carrying suicide jackets and explosives inside a bus station, a police official said. The three were seized early Monday after police raided a bus station in Sargodha, a city located about 190 kilometers (120 miles) south of Islamabad in Pakistan's Punjab province.
The suspects were plotting to attack two Shiite mosques, police stations, and a Norwegian telecommunications company in Punjab, according to district police officer Usman Anwar. Three other suspects linked to the plot were arrested hours later in Sargodha, he said.
The arrests come a day after the Pakistani Taliban's chief in Punjab was arrested, along with five others, according to Anwar.
The Taliban in Punjab have direct ties to Baitullah Mehsud, the former head of the Pakistan Taliban, and have been accused of sectarian murders in Punjab. Pakistan and U.S. officials contend Mehsud was killed in an August 5 drone attack in Waziristan at his father-in-law's house. The Taliban claim Mehsud is alive but ill.
Hakeemullah Mehsud has been selected as the new head of the Pakistani Taliban, a Taliban commander said Saturday.
Pakistani authorities also said they thwarted planned attacks in the southern port city of Karachi, Pakistan's largest city and the capital of Sindh province. Five suspected members of the Pakistani Taliban were seized Sunday in Karachi, along with suicide vests and a large quantity of ammunition, according to the city's police superintendent Mohammed Fayyaz Khan. Read more here ...
Source: CNN