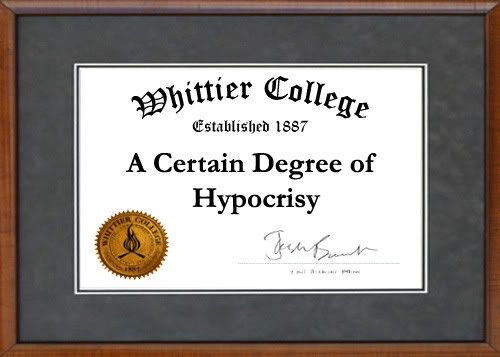 At Whittier College in California, the dignity of women and protection of their rights are top priorities – so long as they don't interfere with the political agenda of campus Islamists.
Whittier President Sharon Herzberger, who was honored at a WNBA game last month for her commitment to the advancement of women, typically receives glowing press coverage. Children's Defense Fund President Marian Wright Edelman, a feminist icon, delivered this year's commencement address. Earlier this year Herzberger appointed a new dean for Whittier College Law School: Penelope Bryan, a scholar of family law who works to end discrimination against women in divorce cases.
With this record, one would think the school would have enthusiastically welcomed a speech by Nonie Darwish, a native of Egypt who is scheduled to speak there this afternoon (12:30 P.M. Pacific Time) about the persecution of women under sharia. Darwish was invited to speak by the Whittier Republican Leadership Council.
Read more ...
Source:
IPT News
Sharon Herzberger
Penelope Bryan
Latest recipients of the World-Class Hypocrite Award