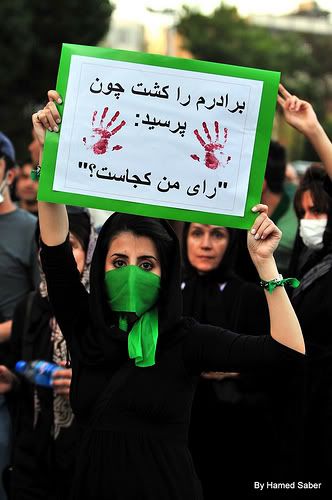 By Michael Ledeen
The showdown set for Friday is becoming increasingly dramatic. While the regime has still not moved against the actual opposition leaders, they are rounding up close associates and relatives, apparently hoping this will silence Mousavi and Karroubi, and they are threatening Rafsanjani to keep him ambiguously in line. Thus, they have arrested three grandchildren of Grand Ayatollah Montazeri, who called upon all clerics to come out and fight the regime (more below), along with the brother of Mrs. Mousavi, and relatives of leading clerics in Qom. The New York Times reports on this today:
This tactic will not work against Mousavi and Karroubi, who are firmly convinced that they are in the right (they are both deeply religious) and that their cause will win, even if they are killed in the process. And they seem prepared for this (remember that Karroubi provoked the security thugs who came to his office a few days ago: "Why don't you arrest me now, it would be an honor").
Indeed, just yesterday Karroubi had a meeting with Parliament Speaker Ali Larijani, who attempted to convince him to be 'reasonable,' promising gradual reforms, etc. Karroubi came out and issued an open letter, detailing the evidence of rape and torture in the prisons that he had presented to government investigators.
I don't think anyone outside a very restricted circle in Iran imagined that Karroubi was capable of the courage he has shown in the past three months. But there you have it; he's been heroic.
Read more ...
Source:
PJM